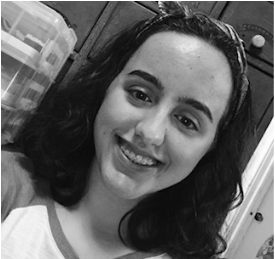 LUKE: What were some of the clubs you were involved in during your time at NHS? —
AMELIA: During my time at NHS I certainly did a lot — I was involved in Powdered Wigs, International Thespian Society, National Honor Society, Math Honor Society, FEA, and Fashion Club for a little bit, so I certainly did a lot.
LUKE: Which was your favorite Powdered Wigs show you were in and why?
AMELIA: My favorite show in Powdered Wigs has to be Into the Woods my sophomore year — I got to play the back end of the cow, and it was so much fun just because it was something different from anything I'd ever experienced before, and offstage I was able to form great friendships and also still be great friends with my old theater friends.
LUKE: You mentioned a lot of clubs. How did you balance school and clubs?
AMELIA: The main thing was I always wrote down when the clubs were available and that's how I'd always be on top of it and able to manage it.
LUKE: Which college will you be attending and what are some of its amenities/features/resources that attracted you?
AMELIA: I'm going to be attending the University of Scranton in the fall and the main thing that really got to me was that it is a Jesuit education, so it's very wholesome in the way it approaches education, also the campus is beautiful — I felt at home right away. Also, they don't have a music major or a music minor — they have an extracurricular music program, so I thought that was very unique and very different.
LUKE: How did you feel applying during the COVID-19 Pandemic? Do you think it was more stressful than a regular application period?
AMELIA: At the beginning in March, I was a little apprehensive about how to approach it, but because of the pandemic, I was able to get ahead with the application process, so after doing online schooling, I would sign up for webinars and do that one hour after the other, and I was able to get pretty far into the application process with all the forms we had to get done, so by the end of the summer all I had to focus on was the college essay.
LUKE: What do you intend to major in and why?
AMELIA: English because ever since I was little, I loved books — some kids had Barbie dolls, some kids had footballs, I always had a book in my hand, so I feel English would be the best place for me.
LUKE: What did you do in high school that makes you feel either prepared or unprepared for college?
AMELIA: Taking AP and IB classes just because it really prepares you for what a college class will be like and teaches you how to put the work in.
LUKE: Which AP or IB class would you recommend to underclassmen?
AMELIA: Definitely take — this is just the English lover in me — IB Literature because it mostly focuses on fiction pieces, and I'm a big fiction reader, and probably take AP US History, and although it's a lot of work, it's really interesting learning about the history of the United States.
LUKE: What are some of the activities you enjoy outside of school and how have they helped you in life?
AMELIA: The two things that pop up in my head are participating in the Community Theater down at the Brosnan Building, and also working as a cashier at Giunta's Meat Farms — these helped solidify who I am and made me more sure of myself during a time where High School is supposed to be this big moment of figuring out who you are and who you want to be — it helped define me as a person.
LUKE: Do you have any plans for after college as of now?
AMELIA: I have some plans — I want to get a Master's in Library Science and become a Librarian, or maybe go down the English publishing route.
LUKE: What advice would you give to incoming freshmen, and to underclassmen in general?
AMELIA: My major bit of advice is find what you love, make sure you have the right friend group to conquer high school with. I was extremely lucky because in middle school I had this great group of friends, and I was able to keep that going into high school, and we were able to meet so many new people, and because of that, I was able to experiment with new clubs and find out who I am.
LUKE: Thanks Amelia, it's been a great interview!
AMELIA: Thank you!