Science Wing Greenhouse
        Northport High School is looking to encourage a greater interest in the botanical world with its newest project: a state-of-the-art, permanent greenhouse, located just outside of the S-wing science rooms. The greenhouse is the brainchild of both NHS science teacher Mrs. Janet Byler, and 2018 graduate Samantha Fanuka. Several years ago, the two dreamed of having a hub for botanical research, gardening, and all things plant-related at Northport High School. After planning out its location and drawing up a proposal, their project was eventually approved by the district.
       Construction of the greenhouse began in the summer of 2018, with the initial groundbreaking taking place on August 3rd. The base is comprised of brick and concrete, as to ensure that the greenhouse is sturdy enough to remain a permanent fixture of Northport High School. Its glass paneling will be anchored with metal supports coated in a deep blue enamel to showcase one of Northport's school colors. The greenhouse is intended to be a place that all of Northport's students can enjoy equally, and so the structure will be designed with handicap accessibility in mind. "It's a first-class greenhouse," says Mrs. Byler.
       Mrs. Byler also wanted the greenhouse's foundation to include several samples from her own "sand collection", an ever-expanding stockpile of the vast array of sand samples procured by her students in their travels. The sand symbolizes the desire of Northport students to go out and explore the natural world, and their eagerness to share their experiences with others.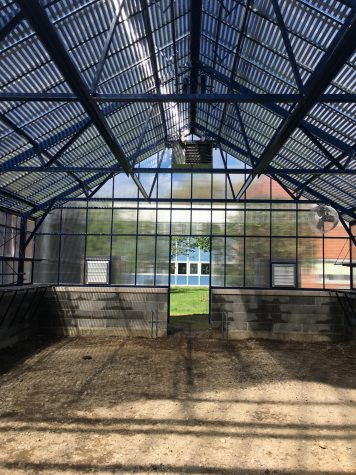 One of the main goals of the project is to promote a greater interest in the study of plants. Plants are vital to every living thing on Earth, yet there seems to be a shortage of people who are academically invested in them. "The big picture, is that there is an academic need for plant-based research," says Mrs. Byler. As such, the greenhouse will offer a wide range of different opportunities for students to delve into the world of botany. Teachers will be able to use the greenhouse as a gathering place for nature-related lessons, and students will be able to use the facility as a means to cultivate plants for their own research. The greenhouse will also allow for students who may not be as deeply interested in the experimental aspect of botany to simply come and learn a little about plants and nature in general. Plants will have tags identifying them, so students can practice and improve their plant identification skills. The greenhouse could also be a place for nature-related events and even art exhibitions to be held, particularly with regards to Earth Day celebrations.
        Mrs. Byler also hopes to establish a small garden of native plant species just outside of the greenhouse. Species native to a specific ecosystem are incredibly valuable to maintaining stability within that environment. This garden will also feature a plant called milkweed, which is vital to the dwindling monarch butterfly population. Hence, the greenhouse will not only seek to help Northport High School, but the greater environment and its species.