Movie RePORT: Goosebumps 2
Looking for a fun movie to go see for Halloween? Fans of the Goosebumps books, the 2015 Goosebumps movie, or those just looking for a silly and spooky Halloween movie will really enjoy newly-released Goosebumps 2.
The movie follows two boys, Sonny and Sam, who try to start a "junk-hauling" business. Their first call comes from a deserted haunted house that's covered in cobwebs and dusted in secrets. They come upon an old book that brings Slappy the Dummy to life, a creepy ventriloquist puppet who, more than anything, wants a family. At first, this puppet seems great; he can fold the boys' laundry, do their homework, and altogether make life easier. But are his abilities just a little…too…scary?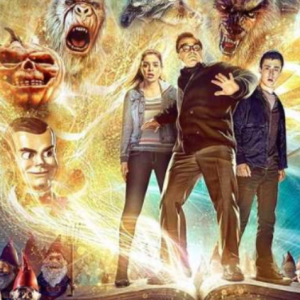 Slappy continues to use his powers to cause frightening mischief all around town. Eventually, he tires of trying to become a part of the boys' family, so he decides to bring all of Halloween to life. At this point, Sonny and Sam discover that the book they found in the abandoned house was an unpublished and unfinished manuscript within the Goosebumps series by R. L. Stine. They work together with Sonny's sister to try and save the town from all the ghosts and ghouls running amuck.
This movie is definitely a fun family movie and it's in theaters now. Have you seen this movie yet? Do you plan on going to see this movie?
What other Halloween movies are your favorites? Comment below!