Port Projector: Chilling Adventures of Sabrina: Season 1, Episode 1 "October Country"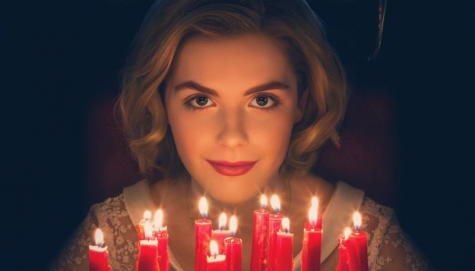 (Spoilers ahead!)
Based off of the comic, Sabrina the Teenage Witch, Chilling Adventures of Sabrina follows Sabrina Spellman (a half witch- half human) who must choose between the two worlds that she loves. In the first episode, it's four days before Sabrina Spellman's 16th birthday/dark christening, where she must choose between "the path of night" and "the path of light". If she follows the path of night, she'll lose her best friends Roseanne and Liz, and her sympathetic boyfriend Harvey. Sabrina is still at odds, and she feels pressure from her Aunt Hilda and Aunt Zelda. The only person she could confide in is her cousin Ambrose, who is on witch house arrest. The story then continues on for the next three days.
Here are a couple of things I enjoyed about the episode…
-I really enjoyed Sabrina's characterization, she is so strong and doesn't let her aunts get to her because of her baptism. Sabrina is also very loyal to her friends and her boyfriend Harvey. She doesn't like to lie to either of them.
-I love the relationship between Harvey and Sabrina. When they said they loved each other on Sabrina's stoop and when Harvey gives her the necklace, my heart was so full. My heart then broke later in the episode, when Harvey's response to Sabrina's confession to being a teenage witch, was she didn't want to be with him.
-One thing that I also enjoyed was the possibility of another convent of witches and warlocks due to the dead body with the witches mark that Ambrose, Aunt Zelda, and Aunt Hilda found. I hope this could be a potential plot line for the rest of the series.
-Another thing that I enjoyed was the chase scene in the maze between Sabrina and the Scarecrow, and being saved by Salem. This is a very crucial moment because Sabrina is still at odds because of her baptism, and she chases down the mala-malace to see if it could help.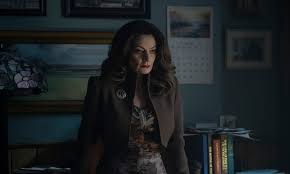 Here are some things I didn't like about the episode….
-Even though Mrs. Wartwell is being taken over by a spirit from hell, she has this dramatic makeover and sends this scarecrow and the crow to spy/attack Sabrina. No one really points that out that she has this dramatic makeover or she's really getting involved in everything to do with Sabrina
-Aunt Zelda and Hilda were lying about how Sabrina's parents died, and Sabrina could obviously tell. The theory is confirmed when Sabrina gets a vision of her parents and her (plus Mystery Baby). So lying to her wasn't necessary, because the viewers could still understand what is going on.
-I also absolutely disliked the Weird Sisters: they are just mean, awful, and cruel. Plus, they make an appearance for like 5 minutes so you can't really understand their characterization.
-Aunt Zelda is such a beast; She pressures Sabrina to join "the path of night", and then behind her back even though Sabrina said, "I made a decision about my baptism." She calls in Father Blackwood; the dean of the Academy of Dark Arts. There is definitely something going on between these two.
-The Principal of Baxter High is so sexist; he's fine with letting an innocent girl who's questioning her gender get bullied by a bunch of jocks. I am semi-thrilled that he got scared to death by those spiders.