Once Upon a Time: The Northport Powdered Wigs' Stunning Performance of Into the Woods
The Northport Powdered Wigs have been running for a very long time. Every year, they will perform one Broadway-length show, with a full pit run by NHS's own Mrs. Cromeyn. And this year we are treated to Stephen Sondheim's masterpiece, Into the Woods.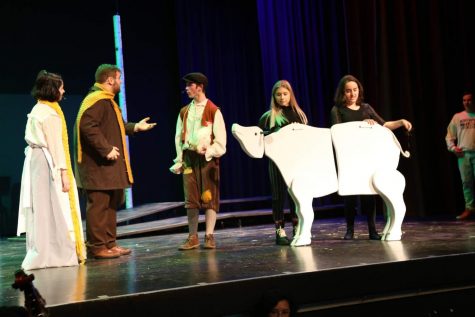 The play is similar to the 2014 movie. We see the stories of Jack and the Beanstalk, Little Red Riding Hood, Rapunzel, and Cinderella, as seen from the perspective of a baker trying to lift a curse placed on his family so he can have a child. After the fairy tale stories we all know are told in Act 1, Act 2 is concerned with showing us the consequences of everyone's actions. I auditioned for the play, and got an ensemble role. The ensemble does not play a huge part in the play, which was initially disappointing, but gave me a good look at the many play scenes I wasn't in, as seen from the perspective of the audience.
The different aspects of the play are phenomenal. The actors in the lead roles are all great, the set pieces are impressive and imaginative, and the pit gives the whole play a stunning air of professionality. The play itself is tricky to execute in places, but it is executed very well in this production. The show is enjoyable to watch, and I hope the audience will find so too. Previews of the play were shown on Thursday fourth and period, giving students a taste of the show.
The play will be shown on Friday at 7:30 p.m. , Saturday at 7:30 p.m. , and Sunday at 2:00 p.m.