Port Perspective: Three Years Behind the Scenes of P-Wigs
Hang on for a minute...we're trying to find some more stories you might like.
When I started senior year, I had no idea how complicated my emotions would be. I am ready to move on to whatever life has in store, yet there are certain aspects of high school I am not ready to let go of. One is tech crew. For the past three years, I have had the privilege of being a member of the Northport High School Powdered Wigs tech crew. I have helped construct and paint the sets for Seussical, The Music Man, and Into the Woods. Every year requires designing, painting, and constructing the sets under the supervision of Ms. Dejong and Mr. Hart over the span of three months. For Seussical, we painted foam fish, truffula trees, and a fort with a slide; for The Music Man, we created the train, storefronts, and house; this year, for Into the Woods, we made papier-mâché trees, constructed Rapunzel's tower, and designed the interior of three houses that hung from ropes. Each set takes an incredible amount of time and effort, but it's all worth it when you see the set come together by opening night.
One of my favorite parts of tech crew was "hell week." The play always premieres in the first weekend of March, so for that Monday, Tuesday, and Wednesday, everyone participating in the play stays after until nine o'clock at night for full run-throughs of the show. We are provided with dinner from one local sponsor each year. It is messy, unorganized, and there are so many last minute changes but that's what makes it so much fun. These are memories that I will always cherish from high school. Being behind the scenes is one of the best parts of the job. You get the see the actors run on and off stage, flashing a smile in between, and everyone is working collectively to provide the best performance for the audience.
Pit is conducted by Ms. Cromeyn always sounds incredible. This year, they added special sound effects that correlated with the actors in the play, such as knocking on a door or a snore from the wolf. It was perfectly in sync with the actors movements. Costume crew, under the guidance of Ms. O'Neill-Gonzalez (also known as Ms. OG), did an outstanding job with the various costumes, such as suits, fairy skirts, capes, and more. The cast is directed by Ms. Salisbury; their performances were breathtaking to watch each and every time.
Last but not least…tech crew. We are the shadows behind the curtains that are in charge of the set design, lights, sound, and on-stage set changes. Everyone did amazing this year, and our co-heads Kristen Impicciche and Victoria Oliviero both did an excellent job leading this crew.
Through Powdered Wigs, I was able to meet new friends from all different grades in tech crew, cast, pit and costume crew every year and these friends have become a second family to me. It is our team work that brings this show to life. If you are looking for a great activity to join, I highly recommend tech crew. It was the best thing I ever did in high school. Even if you don't think you're artistic or good with tools or maybe this is way out of your comfort zone, give it a try. Tech crew helped me come out of my shell and make dozens of friends and so many memories. It is worth every second that you put into it.
About the Writer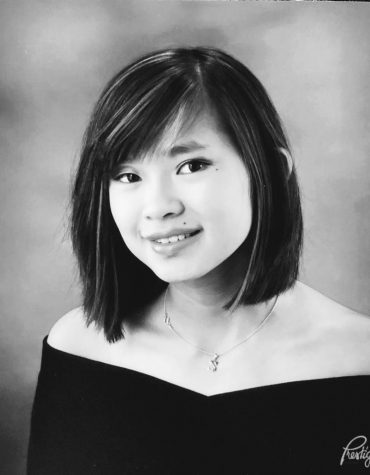 Sophia Martuscello, Social Media Coordinator, Contributor
Sophia Martuscello is an annual Comicon participant who loves going to concerts of all genres. She loves art, and is an Eggplant Parmesan connoisseur.