VSCO Girls – "Skskskskskssskkssksksk"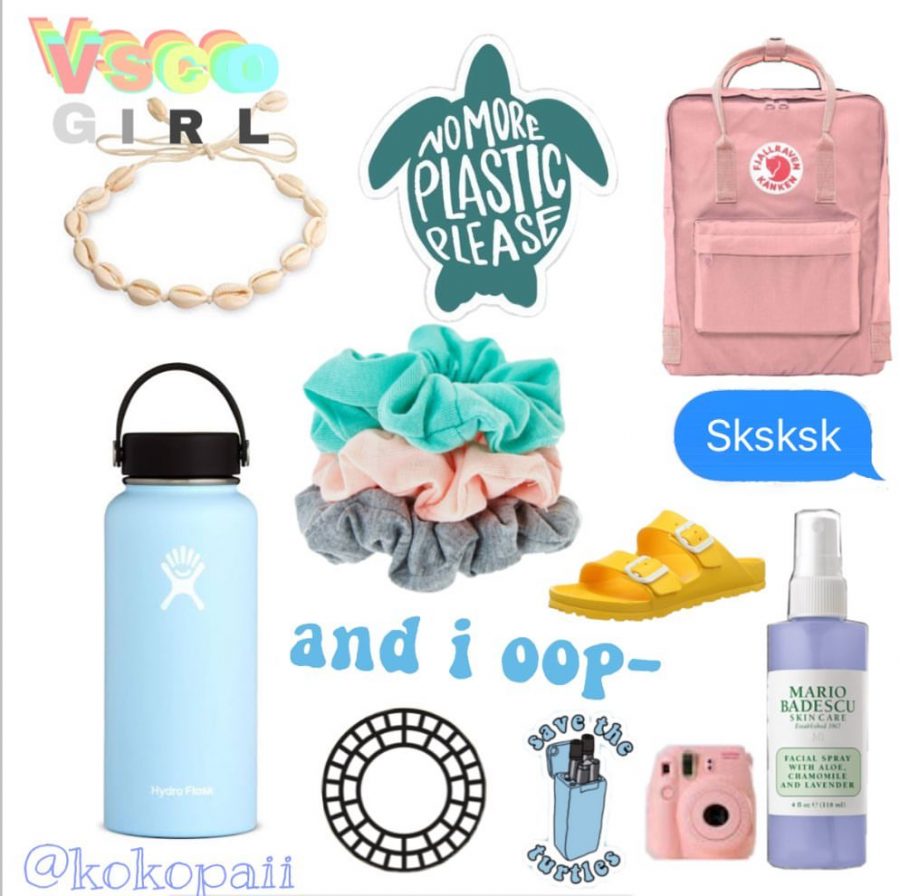 Instagram, Snapchat, Facebook. These apps are all platforms for people to post pictures of what they consider the "highlights" of their lives. For some, this means daily uploads to public, private, and even secondary accounts. 
Many of these users are concerned with gaining a certain number of followers, views, likes, etc. With this pressure to appear on top, a growing demand for a safe place to post whatever posters wanted emerged. VSCO, an app released in 2012 and then popularized in 2017, did just that. Users could post images from their daily lives without captions, comments, and the like. The app is rated for ages 12+ in the App Store, and most of its users are females under the age of 25. 
A stereotype has been formed regarding the appearance and shopping preferences of the app's users. The sudden popularity of certain brands, most notably Hydro Flask water bottles, Birkenstock sandals, and Carmex chap-sticks, are in part due to VSCO. These items, for one reason or another, found their way into the posts and lives of some VSCO users. Soon owners of these items, whether they actually had a VSCO account or not, became known as "VSCO Girls." 
This term goes beyond the brands girls decide to purchase. It also encompasses a person's characteristics, such as a concern for the environment (as seen by "VSCO Girls'" metal straws and reusable water bottles). Phrases such as "and I oop" and "skskskskskskskskkssk" are coined as something only a "VSCO Girl" would say.
Girls that may be classified as VSCO girls are often also described as basic. Their minimalist hair and makeup styles, their willingness to conform to one style, and their similar social media posts and photography style puts these girls in a box and makes them into people who are all the same. For this reason, many people consider being called a "VSCO Girl" insulting. For this reason, many girls will avoid sharing that they own some of the so called "VSCO items" like wrist scrunchies or puka shell necklaces. 
Regardless of what outsiders believe, many "VSCO Girls" enjoy the lifestyle that is frequently subject to mockery. Despite the negative connotations associated with it, "VSCO Girls" continue to live this lifestyle because they feel that it encompasses who they truly are. If you find yourself attracted towards the "VSCO Girl" aesthetic, you are not alone. So feel free to buy as many scrunchies and Hydro Flask stickers as you want, and join the trend.