Recipe: Rum Banana Bread
As the Coronavirus continues to spread and the smart practice of social distancing becomes the new cultural norm, many are sequestered in their homes without weekly outings to supermarkets or restaurants that were once main sources of sustenance. With more time spent at home, people are able to try the recipes that they have always wanted to; but for many, everyday meals can become repetitive if your refrigerator is running low on variety.
If I happen to be describing your situation, this rum banana bread is the savior to your cooking rut! It's a fun twist on a classic favorite, and it can be made with ingredients you probably already have in your pantry at home. Moist, decadent, and indulgent, this dessert is sure to blast your quarantined taste buds away! And the special ingredient – rum – is the key to its rich flavour.
Ingredients:
⅓ cup light brown sugar*
⅓ cup dark brown sugar*
½ cup melted butter (sweet)*
2 large eggs
1 teaspoon vanilla
2 ½ tablespoons dark rum* (**ask a parent first!!**)
1 ⅔ cups all-purpose flour
2 teaspoons baking powder
½ teaspoon baking soda
½ teaspoon salt
½ teaspoon cinnamon
Steps:
1. Preheat the oven to 350F. Mash the bananas with a fork.
2. Put the flour, baking powder, baking soda, salt, and cinnamon into a medium bowl. Combine these ingredients well with either a whisk/wooden spoon/spatula.
3. Pour the sugars, melted butter, and eggs into a large bowl and mix with your stirring utensil until creamy. Then, stir in the vanilla, rum, and mashed bananas into this sugar mixture.
4. Transfer the flour mixture, a third at a time, into the wet ingredient mixture until you have created one homogeneous batter. Do not over-mix, only stir until just combined. Some lumps are totally okay! This will prevent the bread from becoming tough.
5. Scrape the batter into a loaf pan (9×5 inch) and sprinkle cinnamon on top, using a fork to create a swirl pattern.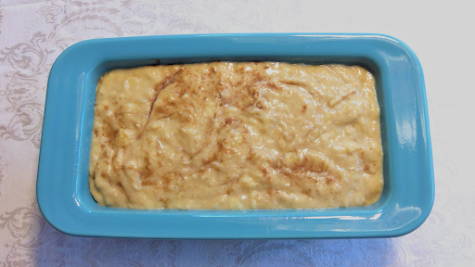 Bake for 1-¼ hours in the middle rack of your oven. To test for readiness, stick a toothpick (a knife or fork works as well) inside the banana bread. If it comes out with no residue, take it out. The rum banana bread is now ready for your consumption. Do let it cool for a few minutes, though, as it will be scalding hot at this point!
*notes:
For a healthier approach, you can substitute coconut oil for the butter. You can also substitute maple syrup for half of the sugar. And if you have no booze available, omitting the rum is possible.