Mme. Kessler Appointed as IB Coordinator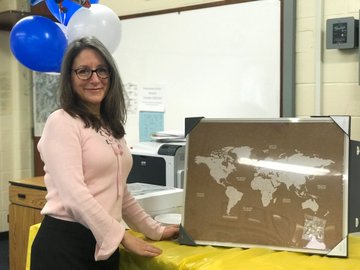 On Thursday, October 8, Anna Kessler (or Madame Kessler, as is she referred to by her French students), officially began her position as Northport High School's IB Coordinator. The position has been vacant since Wayne Jensen, a former teacher in the Social Studies Department, left at the end of the 2019–2020 school year to become the Director of Social Studies and Real World Learning for the East Williston School District.
Mme. Kessler has been an IB French teacher at Northport since 2013. Before teaching, Mme. Kessler, who holds an MBA, worked as a corporate executive in her native France for almost 20 years. After moving to the United States in 2003 with her American husband, Mme. Kessler went back to school to earn her Masters in teaching foreign language at Stony Brook University. "I figured: new country, new life — why not a new career?" Immediately after graduating, Mme. Kessler began her career at Northport as a leave replacement from Mme. Leimone. "I was very fortunate because I started here right after I graduated… For me, I [was] living the American dream."
The IB Diploma is widely considered to be one of Northport High School's most rigorous — if not the most rigorous — academic paths. In addition to having a schedule full of college-level courses, IB Diploma candidates must complete a set of Creativity, Activity, and Service (CAS) requirements, including a service project in which they lead the planning and execution; a 4,000 word Extended Essay on an academic topic of their choice; and Theory of Knowledge, a course divided into a Junior Spring and a Senior Fall Semester that encourages students to contemplate the ways in which they acquire knowledge.
As a result of these shared challenges, IB Diploma candidates grow close over the two years of the program. From IB apparel, to late night study sessions, to IB retreats, by the end of the two years, IB Diploma candidates have formed a bond they will take with them throughout life. Mme. Kessler values this community spirit. "There is a soul to this town that is very special to me… There is a sense of taking care of each other."
IB Diploma graduates enter college and the adult world with the mindset and skills necessary to succeed. Mme. Kessler adds, "You know yourself better as a learner. You know what it means to work; you know what it means to learn; you know what it means to retain, and to actually look at a position with a very critical mind." At the annual IB Breakfast, recent IB graduates return to Northport High School to remind current candidates about the value of an IB education. "One of the recurring themes when the students come back for the alumni breakfast is 'Oh, you can throw any paper at me — I can do it,' but it goes much beyond that. [Completing the IB Diploma] gives you self confidence that you can tackle anything," Mme. Kessler says.
Mme. Kessler feels that her background as a language teacher has prepared her well for her new position. "The fact that we articulate our curriculum around the five major themes forces [us] to always think how the world is organized — as a planet and as a society. [Being a language teacher] brings [with it] a mindset."
Three of Mme. Kessler's children have graduated from Northport High School with an IB Diploma. "[My children] are very different… And each and every one of them found something that helped them grow under the Diploma program," notes Mme. Kessler. "What I love about [the program], and what I've lived, is that no matter what kind of intelligence you have, you can thrive in the program… Everybody can have fun. Everybody can shine. Everybody can push themselves." Similarly, Mme. Kessler hopes to change the "It's hard, it's not for me" culture. "I don't want that… It should be, 'It's hard, it is for me.'"
As Mme. Kessler begins her new position she forsees time constraints being a challenge. "Right now, it's a little bit of a learning curve. I feel like I got on the bandwagon when the train was already moving."
For the 2020–2021 school year, Mme. Kessler will continue to teach her 4IB and 5IB French classes. While past IB coordinators have taught Theory of Knowledge, and Mme. Kessler is certified to teach TOK, she will wait for an administrative decision. "I love my French students. I have a passion for this language. But I'll do anything the administration tells me to."
In her new position, Mme. Kessler looks forward to getting to know many students. "French is a small enrollment… Other than being involved with my other colleagues in language clubs, I never really got to know more than 80 students per year." Mme. Kessler encourages IB Diploma candidates to come to her with suggestions to make the program better. "Once [students] tell me what [they] think would make it better, then we'll sit together and see what we can do."
In general, Mme. Kessler is "excited" to embark on her journey as IB Coordinator. "I'm looking to meeting new students and having them throw things at me: 'I have this problem. Can you help me?' That's what I look forward to."