Opinion: COVID-19(84): Politicians Are Pushing a Pandemic as a Power Grab
"The Port Press is a publication authorized by the Northport – East Northport Union Free School District.  The articles and opinions stated in The Port Press are solely the opinions of the individual writer, and do not necessarily reflect the opinions of the Northport – East Northport Union Free School District, Northport High School or any individual affiliated with such entities.
COVID-19 cases and deaths have been reported to be increasing nationwide. As a result of this upward trend, governors, mayors, and other officials are imposing more and more pandemic-related restrictions. Businesses are being shuttered. Events are being canceled. To mitigate the spread of the coronavirus over the Thanksgiving holiday, several states — including New York — placed limits on the size of private gatherings in people's homes. As the winter holidays approach, it is likely that these restrictions will remain in place.
While these government officials claim that they are implementing these regulations out of a concern for public wellbeing, another motive may be at play. Lockdowns and stay-at-home orders may be nothing more than a means through which the government can exert more control over the people.
This idea certainly seems far-fetched; a government that seeks to domineer its populous goes against the foundations of a proper democracy. But perhaps a pandemic is the perfect mask to conceal a sinister power grabbing agenda.
COVID-19 has undoubtedly affected millions of Americans. Among other things, the novel coronavirus has brought devastating losses for and of countless people. Still, the threat of the virus is not a proper justification for endless restrictions on normal social functions. The predominantly Democratic officials that have instituted such restrictions know this. By continuously perpetuating the myth that the United States is sinking deeper and deeper into the depths of the pandemic, these leaders are engineering a society in which a growing number of people rely on social programs, public aid, and "stimulus" money; in turn, these politicians are creating the impression that big government is rescuing America from 'dire' circumstances that for which they themselves are responsible.
At the same time, many of the officials that instituted pandemic-related regulations have been caught blatantly violating their own rules. This demonstration of a "rules for thee, but not for me" attitude emphasizes that these governing officials recognize that excessive mandates and lockdowns are unnecessary in the fight to containing COVID-19.
In essence, COVID-19 lockdowns are a deviously brilliant and multifaceted method for obtaining more control. Politicians have used the tragedy of a pandemic as an excuse to spit in the face of constitutional rights. Their restrictions go far beyond what is logically necessary to contain a virus, and traverse into the realm of injustice. Even more, these lockdowns strategically enforce complete obedience. In prohibiting mass gatherings, lockdowns prevent protests, and those that do not support these flagrant violations of basic rights have no choice but to accept them.
While mainstream media outlets have taken to 'debunking' claims that COVID case and death numbers are inflated, it is hard to falsify assertations backed by empirical evidence. Data from the Centers for Disease Control and Prevention (CDC) shows that a large number of reported "COVID-19 deaths" can be attributed to pre-existing conditions such as heart disease, renal failure, and injury and poisoning.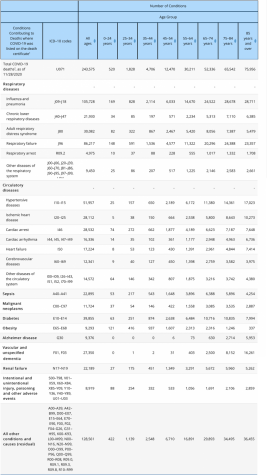 While some insist that COVID-19 was still the primary cause of death for these patients, the severity of most of these conditions means that these patients were already terminally-ill before contracting COVID-19. Accordingly, these underlying conditions were the true causes of death.
So, what is incentivizing hospitals to overstate the toll of the pandemic? The recently-passed federal law, known as the Coronavirus Aid, Relief and Economic Security Act, or CARES Act, authorized a 20-percent compensation increase to hospitals for Medicare patients that have — or presumably have — contracted COVID-19. The Act also allocated around $30–50 billion dollars to reimburse healthcare workers for COVID-19 treatment. Based on this information, it can be inferred that, as with COVID-19 "deaths", the number of COVID-19 "cases" as a whole is being grossly inflated.
Elon Musk, CEO of SpaceX, anecdotally tweeted that "something extremely bogus is going on," after the "same machine… [and] same nurse" tested him for COVID-19 four times in a single day, with two of the tests coming back positive and the other two coming back negative. Twitter users quickly replied that this testing inconsistency was due to the nature of disease testing, which has the potential to provide false results; however, Harvard Health Publishing reports that the rates of both false negatives and false positives are very low. They indicate that the rates for false positives are "close to zero", and that the rates of false negatives are as low " as low as 2% and as high as 37%". Importantly, the upper end of the range of the rates of false negative tests is below 50%, the number that correlates to Musk's tests. This statistical discrepancy implies that Musk's claim of "bogus-ness" was indeed true.
Hospitals are not the only entities on the COVID payroll — ordinary people are as well. The CARES Act authorized the distribution of $1200-per-person stimulus checks to mitigate the economic effects of the pandemic. Several states, including New York, have broadened unemployment benefits as a result of the virus. In Washington, Democratic congressional members are pushing for yet more stimulus money to be distributed to American households. Former Congressman John Delaney (D-MD) is suggesting that the government award $1500 stimulus checks to people who receive the COVID-19 vaccine when it becomes available. Congressman John Delaney hopes that the promise of monetary reward will push the country to a 75% vaccination rate. At $1500 a person, Delaney's stimulus checks would cost taxpayers almost half a trillion dollars. While boosting the economy during a time of hardship is important, allowing businesses to fully reopen is the best way to do so. But, of course, lawmakers would rather present themselves as "heroic" for bailing the country out of rough times through government intervention before letting American capitalism work its magic.
Dr. Michael Yeadon, a former Pfizer senior researcher in the field of allergy and respiratory medicines, and specialist Dr. Wolfgang Wodard have filed a petition with the European Medicines Agency to stop studies related to COVID-19 vaccines in Europe. They cite several extreme risks — including infertility in women, allergic and fatal reactions, and even increased susceptibility to the virus — for the volunteers on whom vaccines are tested. Many of these risks stem from the fact that the primary COVID-19 vaccine in experimental trials (and now in distribution) is an mRNA vaccine. This type of vaccine essentially pumps synthetic genetic material — in this case, proteins usually found on the SARS-CoV-2 virus — into cells to reprogram them to stimulate antibody production. Prior to 2020, this concept was purely theoretical. Indeed, the COVID-19 vaccine is the first of its kind to be approved for use on humans.  Yet despite the fact that the mere concept of an mRNA vaccine has only been considered practical since the start of the pandemic, an mRNA vaccine has not only been manufactured and currently in use, but is supposedly "proven" not to have "any serious safety concerns".
Politicians' extreme lockdown measures are arbitrary at best and draconian at worst. New York Governor Andrew Cuomo prohibited gatherings of more than 10 people during the Thanksgiving holiday, despite the fact that these gatherings would have occurred in people's own homes. While restrictions on public gatherings are more understandable (it is not always possible to control contact exposure in public settings), Cuomo's limitations on the size of private gatherings infringe on a person's right to willingly put themselves "at risk" for contracting the virus. It is likely that similar regulations will carry over into the winter holidays.
Although restrictions on public affairs — where COVID spread is more likely to occur — are more understandable, the lockdown procedures in place are preposterous. IN New York State, the maximum fine for failing to comply with social distancing requirements is $1000 (this is an increase from an earlier maximum fine of $500). In a time of economic downturn, such a fine exacerbates financial strains for those already suffering. The New York State government also requires those who have left the state for more than a day to test negative for COVID-19 prior reentry, quarantine for a week, and test negative again before returning to 'normal' life. If travelers do not wish to be tested, they must quarantine for a full 14 days. Anyone that enters the State of New York from a non-bordering state or from a country with a CDC Level 2 or 3 COVID risk — regardless of the time spent in that location — must complete a "travel form", which requires personal information including an email address, phone number, and the names of those with whom the filer travelled. There is a maximum fine of $10,000 for violating any of these extremist regulations — which, again, is odd, considering the supposed intention of government to 'support' the economy during this time.
Interestingly, the Supreme Court of the United States struck down some of New York's most extreme regulations. Areas of the state in which the rates of COVID-19 infection are above a certain threshold are deemed "yellow", "orange" or "red" zones. In "orange" and "red zones", Cuomo restricted the number of people permitted in religious buildings to no more than 25 and 10 respectively. The Supreme Court ruled in favor of the Roman Catholic Diocese of Brooklyn, the plaintiff in a case brought against these restrictions, on the basis of the First Amendment's Free Exercise clause. The Court stated that "the challenged restrictions, if enforced, will cause irreparable harm [to the First Amendment]". In his concurring opinion, Neil Gorsuch chastised Cuomo for deeming certain business to be essential while shuttering churches and temples. "That is exactly the kind of discrimination the First Amendment forbids," Gorsuch wrote. Given this decision, it is entirely possible that other restrictions in New York (and other states) may be canned if they were to reach the Supreme Court. This may apply to Cuomo's quarantine requirements for people arriving from out of state. Court precedent has established that free interstate travel is a fundamental right specifically protected "Privileges and Immunities" Clause of the Constitution (Article IV, Section 2, Clause 1), which ensures that citizens of any state are treated equally and fairly by other states.
While face mask mandates are in place in virtually every country on the planet, these too may be unnecessary. A major Danish study has found that wearing masks had no significant impact on stopping the spread of COVID-19. Unlike other studies, this one utilized a randomized controlled trial (RTC) as an experimental structure. Researchers often employ RTCs — which fairly accurately mimic real-world situations by eliminating certain biases — to evaluate new medical treatments. Despite the work of scientists in this study and other other, similar studies which have shown that face coverings are ineffective in "stopping the spread" of diseases such as COVID-19 and Influenza, mask mandates are still prevalent.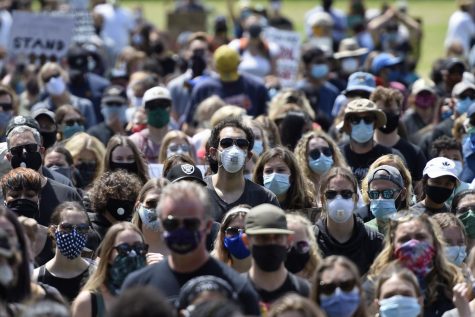 Unfortunately, many of the same lawmakers that are imposing these unwarranted restrictions are violating their own regulations. This hypocrisy not only reveals an "above-the-law" complex in these officials, but emphasizes that these rules are unnecessary. In spite of her requirements for interstate travelers, Washington, D.C. mayor Muriel Bowser declined to quarantine after traveling to Delaware for an "essential" election night celebration for former Vice President Joe Biden; Bowser subsequently received much criticism. Despite urging New York residents to avoid travelling and having large gatherings over the Thanksgiving holiday, Governor Cuomo made plans for his 89-year-old mother (someone at "high risk" for contracting COVID-19) and two of his daughters to visit him,. After facing scathing backlash on social media, he canceled these plans. In the most dramatic violation of a government official's own pandemic-related regulations, California Governor Gavin Newsom dined at one of the nation's priciest restaurants (The French Laundry), in a large, maskless group that consisted of several lobbyists — including some from the California Medical Association.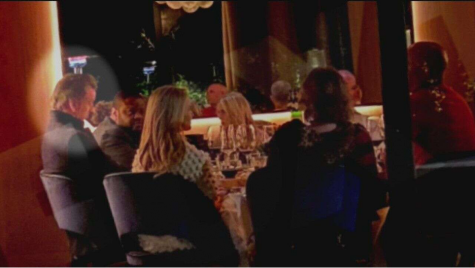 COVID-19 has surely taken its toll on the American people; but perhaps a large share of this toll can be attributed to the public officials that have hijacked the pandemic for power gains. There is no denying that COVID-19 has been devastating from a health standpoint — but destroying freedoms and stomping all over the Constitution is equally devastating.