Exploring Veganism and Other Alternative Diets: A Journey Toward a Broader Perspective
"Veganism is a philosophy and way of living which seeks to exclude — as far as is possible and practicable — all forms of exploitation of, and cruelty to, animals for food, clothing or any other purpose…" – The Vegan Society
In recent years, alternative diets — including veganism, vegetarianism, and pescetarianism — have gained attention.
In order to learn more about these somewhat restrictive diets, I adhered to a vegan diet for 10 days, and immersed myself in the daily life of a vegan.
I began my transition to the new diet by listing the vegan foods that I typically eat. Foods such as PB&J and pasta could be easily modified to become a vegan meal.
I then purchased some vegan staples, including vegan butter, almond milk, oat milk, and tofu.
During my 10-day experimentation with veganism, I experienced some challenges some of the same challenges that vegans face every day.
Often, those who follow alternative diets cannot eat the same food that their family members and friends do. Sean Ryan, a senior at Northport High School who follows a pescatarian diet, says that his parents struggle to find recipes and food to make for him. Ava Corea, a sophomore at Northport High School who follows a vegan diet, says she frequently prepares her own food because her family usually eats meals that do not respect the constraints of a vegan diet. Cooking my food at the same time as my family cooked theirs was difficult; the different meals required different amounts of prep and cook time.
Some days, my family was willing to try one of my recipes. My mom and I both enjoyed vegan fettuccine alfredo, a recipe that Northport High School senior Larkyn Davies — who has followed a vegetarian diet since the age of 12 and experimented with a vegan diet for a year — recommended.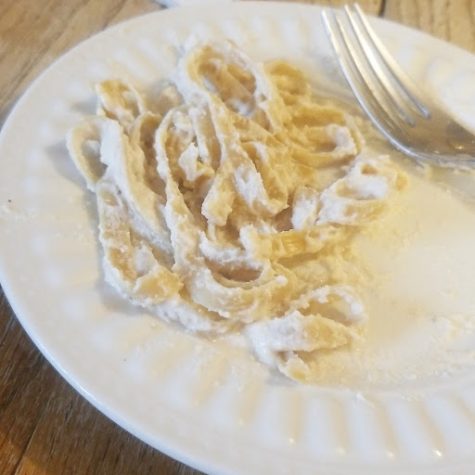 In addition to Larkyn's suggestions for meals and substitutes, Angelina Singotiko, a sophomore at Northport High School who began following a vegan diet at 11, sent me a recipe for tempeh tacos. Despite the use of tofu in place of tempeh, these tacos were easy to make and delicious. Even my brother — who is normally a picky eater — enjoyed them.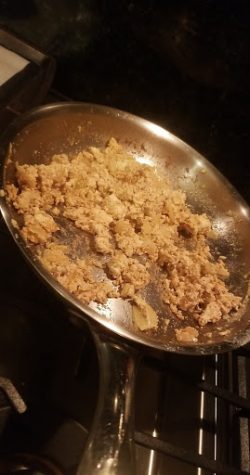 Tempeh and tofu are both processed soy products.  Soy, which many consider to be a vegan staple, can be purchased in many forms, though it generally appears as a milk or meat alternative. The pressed tofu that I used for the "meat" in the tacos absorbed the added flavoring, and the soy burgers I made did the same. While soy may contain some short-term health benefits, there are some concerns regarding the impact of soy consumption on long-term health; one should consider these concerns before increasing soy intake.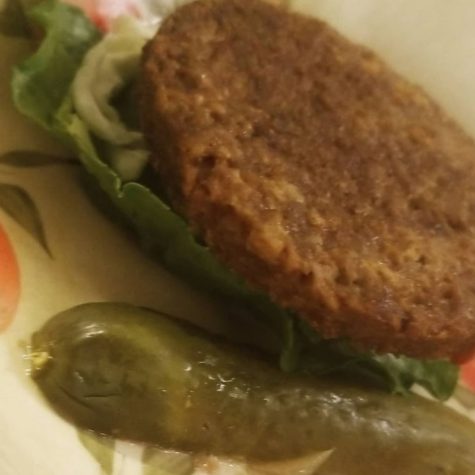 Many who follow meatless diets find it challenging to maintain proper nutrient levels. Angelina says that she indulged in junk food that contained little to no nutrients when she first became a vegan. It took her some time to find vegan foods that contained enough nutrients to support her growing body. Now, Angelina also takes iron, zinc, vitamin B, and other supplements to ensure she receives the proper amount of these important substances. Like Angelina, Sean also finds it difficult to maintain his iron levels, and Ava takes vitamin B3 and B12 supplements as well. At the same time, there are health benefits associated with adherence to a vegan, vegetarian, or pescatarian diet. As a vegan, Larkyn notes that she no longer experiences the 'heavy feeling' that often accompanies consumption of meat or dairy products. Sean claims that he feels healthier overall since becoming pescatarian. 
Eating out can also be challenging for those who follow an alternative diet. Although some restaurants are working towards making their menus more inclusive, it is almost impossible to find food that isn't cooked in lard or butter. I experienced this situation when, during my 10-day experimentation with veganism, my family ordered Chinese food. To avoid this problem, Angelina calls an eatery in advance to confirm that it offers options that fit within her diet.
It can be hard for vegans, vegetarians, and pescatarians to find dietary alternatives. When they do, the alternatives are often expensive. Still, I found that if one budgets appropriately, it is not impossible to sustain a cost-mindful vegan, vegetarian, or pescatarian lifestyle.
In some ways, adherence to an alternative diet presents challenges with social interactions. Still, Ava says that people eventually get used to it, and that some "go out of their way" to prepare vegan food when she visits. Larkyn adds that there is a sense of community among vegans, vegetarians, and pescatarians. She says that she is constantly exchanging recipes with other vegans, vegetarians, and pescatarians, and that everyone bonds over their shared values. From my experience speaking with vegans, vegetarians, and pescatarians, it seems that many are eager to share the struggles and successes they have encountered along their journey.
Maintaining a vegan, vegetarian, or pescatarian lifestyle is certainly not easy. And while my experience and those of others can attest to this, they also attest to the fact that a dietary switch changes one's perspective. Although veganism, vegetarianism, and pescetarianism may appear to limit the foods one can eat, they provide reasons to try a new meal that one may not have tried otherwise.
About the Contributor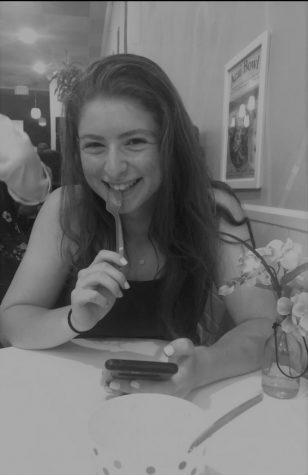 Mckenzie Schuvart, Freelancer
Mckenzie Schuvart is a senior at Northport High School who has always had a passion for writing. She has written for Northport Middle School's Paw Print...