Art Students Create a Model of the United States Out of Plastic Waste
Last school year, Mrs. O'Neill-Gonzalez (or, as she is better known, Mrs. OG) introduced the practice of weaving to her many art students. 
For this, we had a guest artist virtually visit our classroom named Oksana, who joined us on Google Meets every Tuesday to guide us through. We first began to make small weavings, using looms made from cardboard, string, and yarn; we learned how to switch colors, add texture, and make shapes. 
Once we better understood the process, Mrs. OG informed us that we would be creating a model of the United States by weaving colored plastic bags and any other plastic waste we could find.
To start this woven map, Mrs. OG projected an outline of the States on the wall, which we traced out on a large piece of paper. We were then given the choice of which states we wished to work on. I chose Maine. 
The next step was to trace the state outline onto another piece of paper and stick it on cardboard — this would be our loom. After we strung it, we were ready to get to work. 
The hardest part of this endeavor was most certainly working with the plastic bags. We cut the plastic bags into strips so they would be suitable to weave. If we pulled the bags through the loom too strongly, however, the shape would quickly become distorted. In that case, we had to either re-weave or stretch the bags into shape.
Once I finished weaving Maine, I volunteered to help other students work on their projects. As the end of the year approached, we began to weave the states together. To do this, we cut up black garbage bags, stuck a safety pin on the end, and thread it through to connect each neighboring state until the map was complete.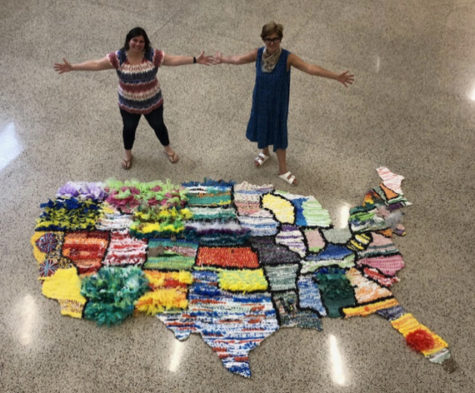 Some of the states didn't fit together properly; we solved this by pushing or pulling the various outlines together. We then added bottle caps to mark the capitals, a backing, and a black edge.
The woven map will soon be displayed in the Commons above the trophy case. For New York Textile Month, Mrs. OG's class discussed the project's creation; we gave a detailed description of how it was made and our various troubles. Several of the participating students, including myself, spoke about their roles in this remarkable project.