An In-Depth Look Into Ramon's Place, Northport High School's Very Own Food Pantry
In March of 2018, Northport High School student Ashleigh Basel pitched an idea for her Girl Scout Project: What if we put a food pantry in the high school?
What likely at first seemed a typical community service project would soon grow into something larger than anyone ever predicted, amassing three storage closets worth of food, serving countless Northport-East Northport families, and raking in nearly $25,000 in donations.
The food pantry was soon after chartered under the hospice of the high school's Key Club, a national student-led organization providing community services through volunteerism. (While the organization is national, the impact is entirely local.) 
As an involved community resident and member of Northport High School's Tiger Marching Band, Basel knew what she wished to call her project from the get-go: Ramon's Place Food Pantry, named after the late Ramon Guerrero, a caring father in the community and beloved photographer-in-residence of the Tiger Marching Band.
From 4 to 6:30pm every Monday night, needy Northport-East Northport families — the food pantry serves exclusively community residents — may shop around the food pantry, filling two large shopping bags with any foodstuffs or cleaning items they may need in the process. The pantry can expect 15-30 families per week, according to Mr. Bill Slagle, Northport High School teacher and co-director of the food pantry. 
The food pantry acquires their food stock through multiple means, the first of which is the most gratifying: community members themselves. Northport-East Northport residents, since the food pantry's inception, have donated vast amounts to keep the pantry stocked; residents can donate knowing full well their food is going to a good cause — their fellow neighbors.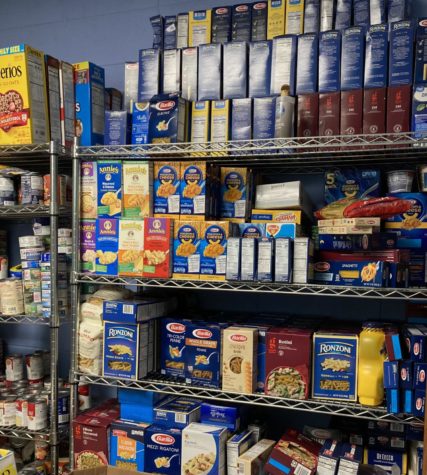 There are some items the food pantry is always in need of, and that's where community members come in. According to Ms. Denise Keenan, Northport High School assistant principal and co-director of the food pantry, "We are always in need of cleaning supplies, personal hygiene, personal care items, things like that — in addition to the pastas, the sauces, the cereal, the peanut butter, et cetera."
Residents can drop off their donations to the high school's reception anytime the school building is open, or any Monday between 3 and 6:30pm. 
Of these donations, Ms. Keenan has stated, "One of the things I love is that the whole community is involved. We have families from 5th Avenue all the way up to Ocean Avenue who donate and who access the pantry. We are helping families across the whole district."
The high school also turns to Island Harvest, Long Island's largest hunger relief organization, for assistance with the pantry's stock. As Mr. Slagle describes it, Island Harvest is a "pantry for pantries," and the work Ramon's Place Pantry does would not be possible without their generous donations and hard work. Says Mr. Slagle of Island Harvest, "Each week, I drive to Island Harvest with my van and fill it with non-perishables…. Island Harvest has been a huge godsend in helping us keep the pantry stocked."
Yet another contributor is Key Club's parent organization, Kiwanis. From the start, Kiwanis has been immensely helpful regarding the upkeep and preservation of the pantry. Their assistance has been key to the organization's success; without them, Key Club would not have the time nor the budget to continue and maintain the ambitious project. 
For example, the pantry is in need of a refrigerator and freezer to preserve the frozen food they collect — Kiwanis is working in tandem with Mr. Slagle and the pantry to bring this to fruition. In fact, on November 18, Kiwanis gifted the food pantry a $1,000 check to ensure the good work they do continues well into the future. As Mr. Slagle maintains, Kiwanis is "always there when we need them." As student co-chairman of the food pantry, senior Jackson Schmidt, puts it, "Any single time we contemplate a fundraiser, Kiwanis is always on it…. We are so thankful for them."
The fourth and final donors who help keep the high school's pantry alive and kicking are Northport-East Northport's beloved local restaurants. One among them, Del Vino Vineyards, donated hot meals to the food pantry at the height of the pandemic to be given to 40 families every Monday and Thursday. 
"It's more generous than you can imagine…. They never really think twice — they just give," says Ramon's Place co-director and Northport High School social studies teacher Ms. Courtney Clark.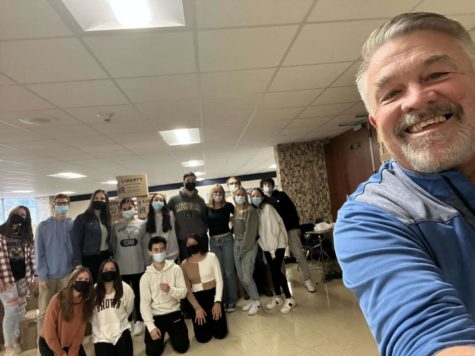 Though Key Club devotes much of its time to operating Ramon's Place, one singular after-school club is often not enough to maintain the pantry full time. In recent months, Mr. Slagle has urged other extracurriculars to get involved in the effort. These various clubs — French Club, the Class of 2025, and others — run the pantry on Monday nights when food is distributed to families. 
Even the district's elementary and middle school's have begun to pitch in. All of this is due to the pantry's vision of being, as Mr. Slagle puts it, "a district-wide project," where the pantry is no longer solely operated by Northport High School's Key Club. 
This fact is slowly being proven true. On Saturday, November 13, the food pantry held four concurrent food drives scattered throughout Northport-East Northport: the National Junior Honor Society, run by high school counselor Ms. Lenore Kmiotek, held a drive in front of the school; Our Town 2000, a club which pairs high schoolers with elementary and middle school students to "foster student leadership skills," held a drive at IGA Fort Salonga; the Class of 2023 held a similar drive at IGA Larkfield; and the high school's Transportation Department were at Stop & Shop for their "Stuff-A-Bus" drive — at the day's end, they had collected $470 in donations and filled the bus completely with food. 
"
We're helping families be families. Think about food and what brings families together. We are providing a means for families to share a meal together. It's one of the most basic human needs, and we are providing that."
— Ms. Keenan
What's more is that the food pantry has seen growth at an almost astronomical rate. Last year, the pantry received a single check for $10,000, gifted to them by a deceased donor who wished to give a portion of their will to an organization involving students and charity — Ramon's Place Food Pantry was a perfect fit. Last year alone, Mr. Slagle estimates the Key Club "raised in the neighborhood of $25,000."
Of the food pantry's work, Ms. Keenan stated, "We're helping families be families. Think about food and what brings families together. We are providing a means for families to share a meal together. It's one of the most basic human needs, and we are providing that."
Mr. Slagle hopes the lasting legacy of Ramon's Place will be a positive one; one that shows the true character of Northport High School. In conversation, Mr. Slagle emphasized that he quickly became disheartened following the discovery of swastikas and other hate symbols scrawled into a Northport High School bathroom stall. He was disappointed not only in the hatred, but in the fact that the entire school system quickly became defined by the hatred. That doesn't define us, he stressed. Ramon's Place Food Pantry does.