Review: Moonage Daydream Shows The Human Side Of David Bowie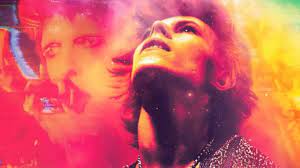 Many biographies face the same issue: they only touch upon what is happening around the person. This is an issue because the point of a biography is to learn specifically about the person. Moonage Daydream isn't exactly a biography or documentary, it's about knowing David Bowie. 
This movie includes never-before-seen footage and performances of David Bowie, as well as audio recordings of him speaking about his creativity, music, and life. The best part of this movie is that it's only about David Bowie, and no one else. 
The filmmaker, Brett Morgan, said that the initial idea of the film was to create a more immersive, sublime cinematic experience that's different from anything else people have watched before, and he really did accomplish this in the film.  Morgan even had to get permission from Bowie's family to include many of these things,showing how dedicated he was to making this film as interesting as possible. 
The film explores the creative and musical journey of David Bowie. When first watching, there seems to be no particular order, but there is. The film does not start at the beginning of his life, but at the beginning of his career with 1970s concert footage, making David Bowie seem more like a human than an alien.