Review: Taylor Swifts Midnight's Explores All Styles Of Pop Music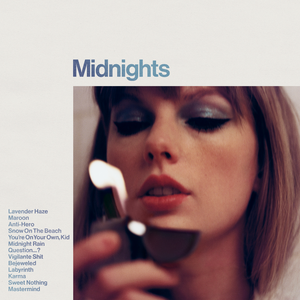 It's me. Hi! I'm the Taylor Swift obsessed fan, it's me. More than a month ago, on October 25, 2022, Taylor Swift dropped her record-breaking album "Midnights". Since its release, fans have been so in love with her new album that they may stop breathing. 
Taylor broke her own record for most Spotify streams in 24 hours, reaching 185 million streams in just a single day. Not only this, but Taylor became the first person in history to occupy the most Top 10 Billboard Hot 100 tracks, being the only person ever to hold the Top 10. 
Best believe Taylor is still bejeweled, and shimmering her way into breaking historical music records, so surely this album is good, right? Well, I only have one thing to say: Taylor Swift is the ultimate mastermind. 
Dear readers, we begin with Taylor's opener: Lavender Haze. Lavender Haze is an upbeat, electropop song inspired by R&B and hip hop. It describes the state of falling in love while simultaneously making the listener feel the same emotions. Lavender Haze has made fans' hearts skip down 16th Avenue, a feeling everyone enjoys. 
The songs on Midnight have a recurring theme of love, whether that love is positive and joyful or abusive and dangerous. Such songs include Sweet Nothing, Question..?, and Glitch, which is off of her 3AM Edition. Through these songs, Taylor writes poem-like stanzas confessing the light and dark sides of love. 
Some songs make our blood rush to our cheeks in fury, while some make us feel that warm, fuzzy feeling of experiencing true love, and others have us questioning what could've been, would've been, what should've been happening. 
Going deeper in the labyrinth of what is Midnights, Taylor released 6 bonus songs that is the 3 AM Edition of Midnights. These songs add both sadness and compassion to her main album, as well as reignites some old anger regarding one of her past relationships.
The song "Would've, Could've Should've" dives into her sad, beautiful, and tragic relationship with John Mayer, when she was 19 and he was 32. The song was better than revenge, taking a sadder approach on how Mayer emotionally destroyed her late-teen years, saying how she couldn't tolerate it. 
However, not all 3 AM tracks take this approach. The song "Paris", one of my personal favorites, discusses the relationship high one gets in a romantic relationship. She describes it as so surreal, it's like one is in Paris, France. I promise you, your tears will ricochet once you listen to this upbeat, exciting song. 
Saving the best for last, my favorite track off of Midnights is "Maroon". I'll be honest: this song has me falling like snow on the beach. It's smooth, synth beats combine dream pop, synth pop, trap beats, and an electric guitar beat. In this song, Taylor reflects on a past relationship and discusses memories with her partner. 
The emotion and excitement through the lyrics is bigger than the whole sky, something I enjoy very much about this song. My first listen to this song was the moment I knew it was going to be my favorite, so if you are new to Taylor's discography, I highly recommend listening to this track. 
Whether you think Taylor Swift is a lyrical genius or an anti-hero, I highly suggest you listen to this record-breaking album. Contrary to popular belief, Midnights explores all styles of pop music. It's an emotional rollercoaster that takes you on the ride of your life. Get ready for it, because once you listen to Midnights, you'll listen to Taylor Swift forever and always.