New Hidden Gem? The Next Chapter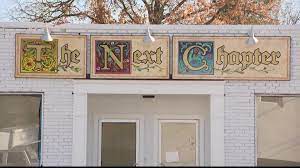 After being closed for over a year, Long Island's biggest independent bookstore, Book Revue, is back with a new name, The Next Chapter. The store recently opened just down the road from the old location in Huntington village. 
In September of 2021, the store announced that they would be closing for good after being open for more than 40 years. The new name fits it well; this really is the next chapter for the independent bookstore.
Book Revue was the largest and best independent bookstore on Long Island, with over a thousand books from any genre, to rare first editions locked inside a glass case. The store used to host authors like Natalie Portman, Whoopi Goldberg, Keith Richards and a few former presidents. 
Book Revue was successful in keeping the literary world and spirit alive, considering many bookstores have been disappearing lately. Eventually, this is what happened to Book Revue.
However, as soon as they closed they promised to open another store. Mallory Braun, former manager of Book Revue, has spent the past year working her hardest to open a new store. She started out by raising enough money to buy the new place, which was successful considering many of Huntington's residents were upset to see the bookstore go. All while finding a location, The Next Chapter set up shop in various pop up places throughout Northport and Huntington. 
After all the hard work by the former workers and former owner Richard Klein of Book Revue, they were finally ready to open the doors of The Next Chapter. This store is very much similar to the old one, but has some new materials as well such as donated records in the back of the store. They will also be bringing back the café that was inside the old store.
The Next Chapter is continuing the life of Book Revue, and is officially open with their very own store, for good. They have proven that independent bookstores are not gone, but are just beginning their next chapter.