For Northport, Damar Hamlin's Injury Hits Close to Home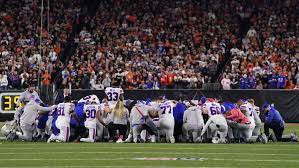 On January 2nd, 2023 it was week 17 of the NFL, and two of the NFL's best teams were set to play, the Buffalo Bills were in Ohio taking on the Cincinnati Bengals. 
If you didn't know who Damar Hamlin was, neither did most NFL fans because of his much more well-known teammates on the Bills' defense. But now, people all across America have him in their thoughts and prayers. 
Guys get injured all of the time in football, but something felt different this time. After the 24-year-old Bills' safety Hamlin was tackled by Tee Higgins of the Cincinnati Bengals who made what appeared to be a routine tackle. He stood right back up and took just a few steps before collapsing back to the ground. Within seconds medical professionals were out on the 50-yard line performing CPR along with the help of an AED, as Hamlin was suffering from cardiac arrest. His team surrounded him, with players from both teams crying, kneeling, and holding hands as they prayed. Approximately 16 minutes after he collapsed, he was taken by an ambulance to the University of Cincinnati Medical Center.
The players and staff were told they have 5 minutes to get their thoughts together before resuming the game. A player could break his leg, or be concussed but the game always goes on. There is a very faint line of when the game of football stops but that line was well beyond crossed on Monday the 2nd. 
"Immediately, my player hat went on," Troy Vincent, the NFL's executive vice president of football operations, said to reporters after the game. "How do you resume play after you've seen such a traumatic event occur in front of you in real-time?"
The game ultimately was suspended as it should have been. Nothing no longer mattered but Hamlin's life. 
At 10:11 P.M. that night it was announced by NFL commissioner, Roger Goodell that Hamlin was in "critical condition."
As time went by, he slowly showed signs of improvement. Hamlin's uncle announced the next day that he was still on a ventilator but only 50%. On January 5th Hamlin opened his eyes and gripped the hands of family and friends according to NFL Network's Ian Rapoport.
Soon after it was reported that Hamlin was able to communicate via pen and paper. One of the first things he wrote down was, "Did we win?" Timothy Pritts, MD responded with "Yes, Damar, you won. You won the game of life."
On January 6th, he was breathing on his own and was able to join in on a Bills' meeting on Facetime.
On January 8th, the Bills' returned home for their first game since the incident. Hamlin tweeted "GameDay.. Nothing I Want More Than To Be Running Out That Tunnel With My Brothers. God Using Me In A Different Way Today. Tell Someone You Love Them Today!"
The Bills' won while eliminating the New England Patriots from the playoffs, all while wearing a number 3 patch on their jersey in honor of Hamlin. Not only did Hamlin have a miraculous recovery, but Nyheim Hines returned the opening kickoff for a touchdown. The last time that happened to the Buffalo Bills' was no coincidence but 3 years and 3 months ago. 
Hamlin stayed in touch throughout the game by using Twitter. The tweet he made regarding Hines's opening kickoff that led to a touchdown was "God Behind All This No Coincidence..3️⃣" Nobody could have written a better story for Hamlin. .
But in the 3rd quarter Hines did it yet again. He returned another kickoff 101 yards for a touchdown. Leon Washington was the only other player to have that happen to him twice in a game in 2010. 
"You couldn't have scripted it any better," QB Josh Allen added.
A few days later, Hamlin would return home to continue his recovery. After defeating the Miami Dolphins on Sunday, January 15th, by a score of 34-31, they will now advance to play the Cincinnati Bengals where this story once began. 
In Northport, this definitely hits close to home because of the story of Luis Acompora. He was 14 when he passed away in 2000 after going into cardiac arrest during his first high school lacrosse game. Although he was wearing a chest protector, he was still hit just above his heart sending him into cardiac arrest. 
The ending of this story could have turned out very differently if there was an AED on the field. Since there was not a defibrillator until 12 minutes after he collapsed, it was too late. 
Luis' family pushed for there to be AEDs in every school, on every sideline, and this is one of the main reasons why every year during gym class we do a CPR unit, and every other year students are certified for the first time or recertified. 
"This is exactly what happened to Louis," John Acompora said. 
"Thinking about [Hamlin's] mom and dad in the stands and how we felt," Karen Acompora said.
The Acompora family made it a mission to not let any other family go through the same thing they did and they sure did make a difference. As Karen put it, "And here we are at 110 lives saved in New York state schools, many of them athletes, young athletes. We know we are doing the right thing,"