Students For 60,000 Volunteer In Kenya
Most school trips involve an awkward bus ride to a random school on Long Island for some boring convention regarding something that is remotely exciting. When it comes to Students for 60,000, this couldn't be further from the truth. Not only does head teacher Darryl St. George make his students try to become as close as possible, but the destination is exciting.
Over February Break, students of this club, including myself, went on an hours-long journey to Kenya. Yes, you read that right, the sub-Saharan African country with more than 47 million people was the destination for the club. Students for 60,000 worked with World Servants to provide for the people of Mtito Andei, a remote village between the cities of Nairobi and Mombasa. 
World Servants is an organization dedicated to making communities more sustainable by giving them access to faith, education, health necessities, and jobs using a three-step approach: envisioning, learning, and experiencing. World Servants representative Tim Gibson led our group in building a school for the children of Mtito Andei.
The school is a 3 room concrete building meant for teaching both middle and high school level classes. Our task as a group was to finish the walls inside and outside of the school. To do this, we first scraped, sanded, and brushed the walls to make it nice and smooth. Then, we painted the walls a bright yellow color to make it nicer looking. 
Our mission was assisted by the parents of the students who will go to this school. These folks, especially the mothers, are the most upbeat, energized people I have ever known. They never failed to make sure we were having a good time, and they did this by having dance breaks. I cannot dance for the life of me, but in those moments when I was dancing with them, all of my cares went away.
The students of the school are some of the most incredible souls I have met. To meet kids with such resilience and benevolence was so inspiring, especially knowing their background.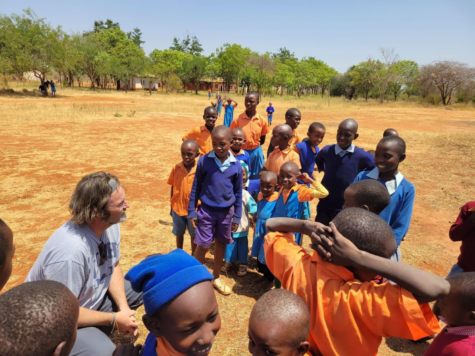 On one of our work days, we took time to do some house visits. These kids and their families live in tiny, 3 room concrete houses with barely any food or water. Seeing them make the best with what they have has taught me so much, and it is something I will never ever forget. 
In Mtito Andei, we stayed in a quaint inn named the Tsavo Inn. Our home away from home for 6 days could not have been more cozy. The people who worked there were so kind and smiley. It was too hard not to smile as they made our meals, gave us our change after buying a Blackcurrant Fanta, or even just walked past them. 
The leader of the workers, Sampson, was a caring, compassionate man who looked over us with utmost care and helped us learn the local language Kamba. The Tsavo Inn itself was a beautiful place with hundreds of plants and an outdoor pool. The rooms were separate from the main lobby, and each room had 2-3 beds. The rooms were so nice and a great place to relax after a long day of hard work. 
After 4 days of building the school, we resided in a fun lodge in the nearby Kilaguni Serena Safari Lodge in Tsavo West National Park. Here, we embarked on a safari in search of wild animals. 
We went once late in the afternoon and once early in the morning, as those are the best times to see as much wildlife as possible. On these safaris, we saw zebras, giraffes, wild buffalo, impalas, rhinos, birds, cheetahs, hyenas, and other exciting animals. 
Seeing these animals in real life was the coolest thing I have ever experienced. Being that giraffes are my favorite animal, I was so happy I could have died.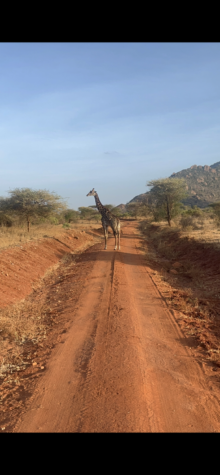 Overall, the trip was an experience I could never put into words. To be able to embark on this trip was already such an honor, but the people I met along the way made the trip more incredible. 
To the friends I made along the way, I will never forget the fond memories we made. We all hold so much love for each other, and I hope that sticks forever. To the people of Mtito Andei, I will forever cherish your time in my life and think of you whenever I need to be reminded of a valuable lesson. 
I will always be grateful to Students for 60,000 for giving me the opportunity to embark on these service trips, because especially in times like today, sometimes we all need a little reminder of what we have and what we can do to better ourselves.