Northport Tiger Marching Band Returns To Hofstra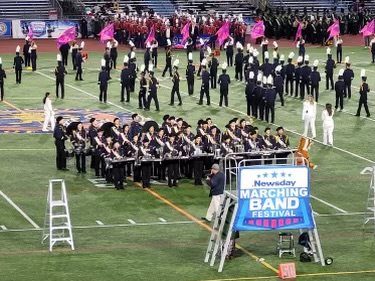 For around 10 years, Lynn Cromeyn has been the band director for the Northport Tiger Marching Band. The band performs during halftime at all home football games, and takes part in parades such as the Cow Harbor Day Parade and the Memorial Day Parade.
One of the events that the band got to partake in was the Newsday Marching Band Festival, which takes place at Hofstra University. Each year, marching bands around Long Island competed for the best performance, and each year Northport's band got to take home the trophy. It got to a point where the Tiger Marching Band was invited not to compete but as the finale.
Unfortunately, due to COVID-19, many of these events were changed or canceled for the past couple of years, and the ninth period band lessons were changed to fit the online learning environment.
In 2021, the band got to participate in a fake Hofstra performance, or "Fofstra," which took place at Walt Whitman High School.
This year the band got to return to normal, and attend the festival at Hofstra on October 20th. Members of the band arrived back at school that Thursday at 3:45, taking attendance and packing instruments into buses. When everything was set, students and chaperones boarded the buses and made their way to Hofstra.
The band got there around 5:30, and was given time to unpack instruments along with the other bands who were competing. Once instruments were situated, the marching band was given two sections of the bleachers where they watched the festival until it was their time to shine.
Parents were able to come at 7 o'clock and watch bands from all over Long Island, as well as their color guards and dance teams. But the show many were waiting for was Northport, who performed at 9:00.
"It honestly felt like I was in a movie," said Michael Brech, a freshman on drumline for the Tiger Marching Band. "It was definitely one of the greatest experiences I've ever had. I've been watching this band ever since I was a kid, since my sisters used to be in Flagline. It's crazy that I'm a part of it now."
For freshmen like Brech, this was their first experience at what the marching band could do; but because of COVID, this was also the first real event that many sophomores and juniors got to have.
"Mid performance I could feel that this was our best show yet," Brech said, "and honestly, I think it blew the crowd away. Kinda showed everyone that Northport was back, bigger and better."
Brech isn't the only one who believes this was an incredible opportunity for the band to show what they could do. Band president Ricky Corbett was one of the seniors who got to see the difference between the last Hofstra performance to now. "Being honest, I don't remember much about my freshman year Hofstra experience. That's probably because I just saw it as any old band field trip to another town to play for some people. This year though, as a senior and the president, I truly understand how meaningful Hofstra is to the Northport Marching Band. The fact that rival schools and their fans were cheering for us really emphasizes this. Even schools that were jealous of us and jeering and bantering us while we were standing right next to them just goes to show how much of a different level we're on compared to other Long Island marching bands – in terms of music, visuals, and mannerisms."
When asked about how this year differed from last year's marching session, as well as the Fostra event last year, Corbett still had positives about the season prior. "I thought last year was great considering how short noticed it was," he remarked. "I think we sounded great in both years but the excitement and anticipation wasn't as prominent last year as it was this year. I thought this year people were a lot more excited and they understood how important Hofstra is to the band. I thought it was our best performance of the year."
This December, the band will be performing at Disneyland in California, from the 8th to the 12th. After the experience the marching band had at Hofstra, it is safe to say everyone is looking forward to performing at the happiest place on earth.