Opinion: AI Art Isn't All Bad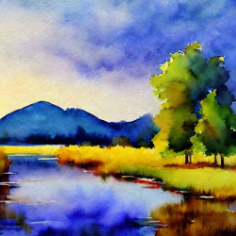 Will AI in the far or near future replace artists? This is an important question that has been brought up a lot with the growth of AI art. 
AI art is artificial intelligence that looks at millions of images that are online and combines them together to create a picture using a prompt you put in. Since it has been introduced, AI has become very advanced. The art that is being created is almost perfect, but still can be a little off. But how soon until it has no imperfections? 
In my opinion AI art is a good thing to have fun on, but it does pose a threat to upcoming artists. Since the art created is not like any other art piece, people are able to sell it and make profit off of the work. The AI generates art by combining images from all over the internet – this is concerning for some artists because they are not able to opt out of the AI using their work. 
The profit off of AI generated art has already started, from being sold online to even winning a state fair art competition. Since AI art can be used by anyone, even people with no artistic ability can create art with AI. The art made can be completed in less than a minute, and all we have to do is put in a prompt. 
In Mr. DeRosa's classes AI art has been talked about and experimented with. Some of the AI's that we have tried out are Wombo Art, Midjourney, BlueWillow, etc. 
All images in the above gallery were generated by Lindsay Connolly using the AI Midjourney.
Art student Maia Kramer says, "I think that it is a great thing to play with, but it shouldn't replace actual artists."
Another student says that "It's amazing to watch as it develops, and some of the art it can make is very surprising". 
There are many different opinions on AI, negative and positive. The most important thing to consider is that we shouldn't ignore AI art – the technology has already been created and it will only grow from here. The use of AI should be integrated into our own lives since it will only become bigger in the future.