Warning: Don't Get Pet Fish at Northport High School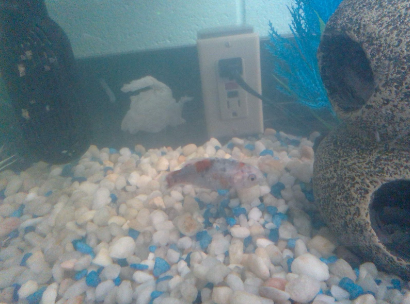 A little while ago, my biology class got 4 pet fish. Their names are (were) Amoeba, Chromosome, Nuclei, and Water Bear.
I had nicknames for two of them – Nuclei was Hammerhead and Water Bear was Koi. Hammerhead got his name because his eyes kind of stuck out to the sides, so when he was swimming straight up, he looked like a hammerhead shark. And Koi reminded me of a koi fish. 
At one point, Hammerhead had something white sticking out of him. We thought he was injured and that the white was his bone, but when we came in the next day the teacher said that he had a parasite. She was able to remove it, keeping him alive.
However, Amoeba and Koi died rather quickly for no apparent reason. The teacher says it was probably the water in the school.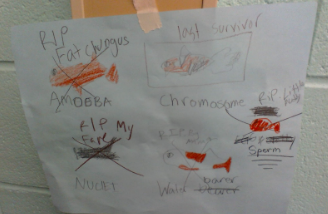 After Koi died, we replaced him with a new fish, Sperm. Sperm is the only other fish that I had a nickname for – Micro, because he was so tiny. The fish didn't last long, though. Micro died, and finally Hammerhead succumbed. Currently, Chromosome is the only one still alive.