Humans of Northport: Anna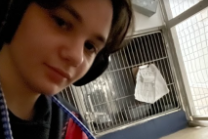 There are several happy moments in my life, but one that stands out to me was when I finally moved from Smithtown to Northport because I was able to have some stability in my life. I was able to start making friends and I eventually realized… like… wow, I'm happy!
Not to diss Smithtown, but I think with Covid and the instability of my life it was nice to have a fresh start in Northport. I mean, it was hard to go into a school not knowing anyone. Everyone was already kind of doing their own thing.
But being in Northport, going to Main Street, going on walks, it just gave me a fresh start and a nice life that I am able to have. And even though it was hard at first, eventually I made friends, and that sort of thing just fell into place. Overall, moving to Northport was a good choice for my life.